Gather your friends and family around the Patioflame Table by Napoleon.
With flames reflectred in glittering glass, these fire tables make the perfect focal point for your outoor living space. The rustic bronze finish gives the impression of wood, paired with the glass ember bed for a cool and hot atmosphere. It even comes with an aluminum burner cover to turn it into a full table when you're not watching those beautiful flames.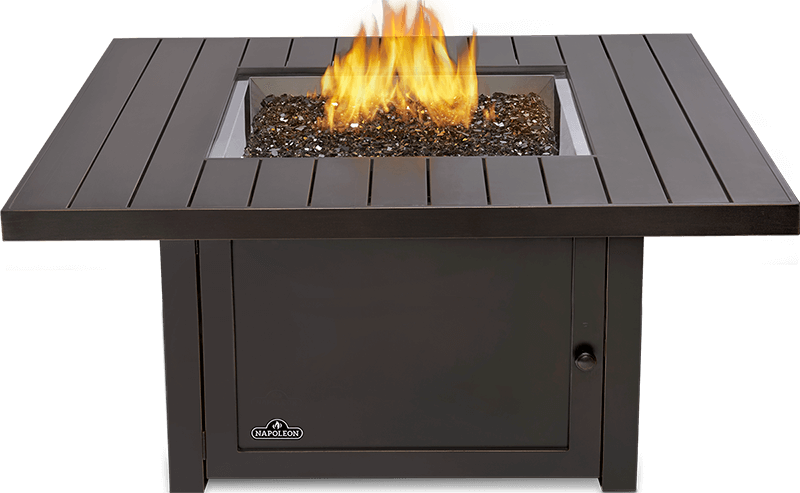 The square fire table boasts a design that is both elegant and modern, it will match any décor. Easily light the square fire table and receive 60,000 BTU's of heat, dancing flames, and glittering light for your outdoor space. No need to worry about unsightly fuel lines and tanks cluttering your space. The fire table hides the propane tank behind an easy access door (propane models). The thermocouple valve is a fantastic safety and savings feature on every square fire table. If the flames are interrupted for any reason, gas is cut off to the unit. This prevents you from wasting your propane and prevents gas leaks too. Weather is not a worry. If you leave the included burner cover off and you get rain overnight, there are drainage holes in the burner to make sure that water will empty before the next use.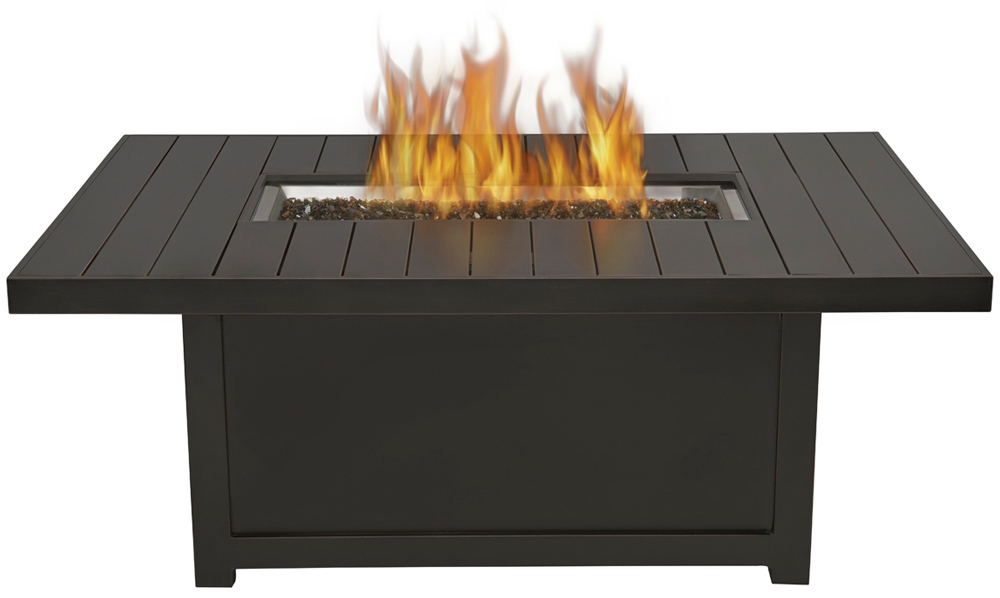 Napoleon's rectangular fire table is the perfect addition to your outdoor living space. The rustic bronze finish gives the impression of wood, while the linear gas burner adds a modern flair with a ribbon of flame. A stylish glass ember bed reflects the light of the flames warming you and providing a cozy atmosphere. Add warmth visibly and physically to your outdoor living space with the rectangular fire table by Napoleon. Not just a place to set your drinks, the fire table is the anchor of your outdoor conversation area. It even comes with an aluminum burner cover that converts it into a table.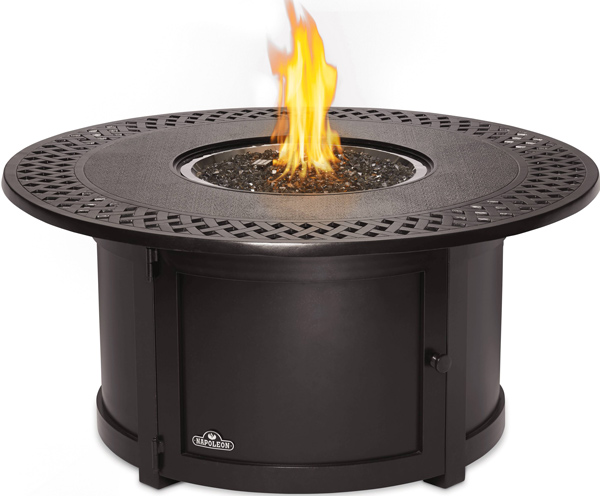 Entertain your friends and family in luxury and style with the Kensington round fire table. Lightweight and rust-resistant, the aluminum body allows the table to be moved comfortably around your backyard depending on your desired situation. A rustic bronze finish with a woven pattern, lends a subtle luxury, which is further customizable with the addition of colored glass. This fire table includes a matching burner cover and an access door to hide the propane tank. Use the Kensington round fire table to extend your entertaining well past dark.