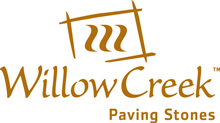 Say goodbye to drab concrete and asphalt surfaces.
Breathe new life into your landscape with shapes, colors, textures & patterns.
Say goodbye to drab concrete and asphalt surfaces. Willow Creek pavers are the preferred pavement of do-it-yourselfers, bringing beauty, utility, durability and ease of maintenance to homeowners. In northern climates, pavers have the advantage over poured concrete and asphalt, because the paved surface can flex as soil heaves and sinks during freeze/thaw cycles. Build the outdoor living space of your dreams with interlocking concrete paving stones from Willow Creek.
It's easy to expand your living space into the great outdoors with
An outdoor kitchen, where you can grill year-round.
An outdoor living room to relax with family and friends.
A circular patio with firepit for fall gatherings and evening entertaining.
Add elegance and curb appeal to your home with a paver driveway or paving stone terrace. Enhance your existing landscape with an elegant stairway or paver walkway, sidewalk or pathway to connect front yard to back yard. Or create a grand entrance.
There's a Willow Creek paver system for every project! Color Guide
Find out more at http://www.willowcreekpavingstones.com.