Willow Creek Infusion™ technology makes pavers brighter & tougher
Willow Creek Infusion™ technology is an advanced manufacturing process that enhances the appearance and performance of Willow Creek Select Series™ and 7cm Tekstone™ pavers. The Select Series includes Willow Creek's Slatestone™, Slatestone Grande™, Eurostone™ and Dekrastone™ paver families.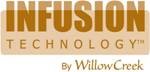 This proprietary manufacturing process enhances the paver's performance and appearance. Specifically, the process:
 
  Enhances paver color and extends the life of the paver's bright, vibrant "new paver" look
  Improves stain resistance for everyday use
  Reduces absorption, making the paver more durable

The Infusion process has proven its reliability through rigorous testing. Pavers manufactured using the Infusion process have been exposed to all four seasons in the Upper Midwest to test for the effects of weathering. Timed muriatic acid durability tests prove that pavers manufactured using the Infusion process show less surface degradation than other pavers.

Willow Creek is proud to introduce this innovative manufacturing process to the Midwest. See for yourself the difference that the Infusion process makes. Contact your local Patio Town store for more information.