Expand your options with the Ultra retaining wall system.
The Ultra retaining wall system offers VERSA-LOK's renowned durability and stunning looks in a lighter-weight unit
Ultra units combine VERSA-LOK's industry proven, top-pinning technology with cost-effective cored construction in one versatile unit to open up a whole new world of design options. Ultra walls can be built with a ¾-inch setback or near vertical and will accommodate geogrid reinforcement.
Ultra has a hefty ¾-square feet of wall face per unit but weighs in at an economical 59 pounds. Its larger face area and installer-friendly dimensions make Ultra an excellent option for cost-conscious homeowners and professional builders alike. Multiangle corners, variable bond designs and other creative wall features are possible when used in tandem with other members of the VERSA-LOK family, including matching VERSA-LOK cap units.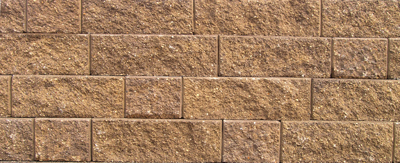 The unit's dimensions—18 inches wide by 6 inches tall and 12 inches deep—make it easy to incorporate into wall patterns with VERSA-LOK Standard, Cobble and Accent units. This wall section shows how mixing VERSA-LOK Ultra, Standard, and Cobble units creates a random, natural appearance.
Ultra Unit Measurements:
| | |
| --- | --- |
| Weight: | 59 lbs. |
| Size: | 6" High, 18" Wide (face), 13" Wide (rear), 12" Deep |
| Face Area: | 0.75 square foot |
| Solid Colors: | Granite Gray, Prairie Tan |
| Pins Needed: | 2 per unit |