The look of natural stone is always a winner. From Chilton Flagstone, Fond du Lac Flagstone and Wild Horse Wall Stone to Rocky Mountain Red Steppers, Snapped Fond du Lac and New York Bluestone, we've got you covered with all the colors, textures, sizes and shapes of natural stone that you'll need for your landscaping projects.

Applications are endless: steppers, pavers, tiling in patios, pond borders, water features, planters, edging and other landscaping features.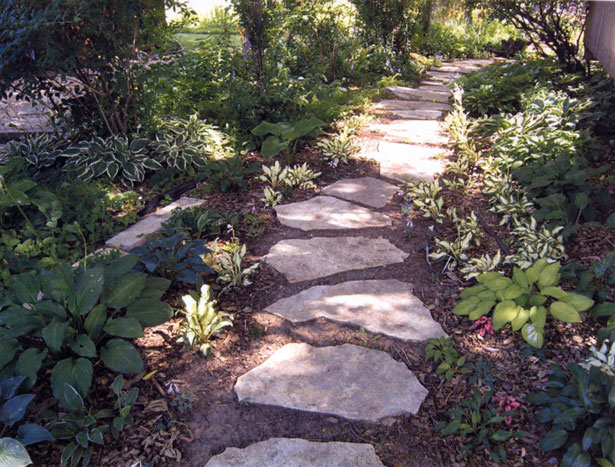 The colors and shapes of natural stone can enhance your landscape design with a rustic look. Irregular-shaped flagstone works well as stepping stones and accents, while cut natural stone is often used for patios and as column caps. With a natural non-skid surface, flagstone is perfect for walkways, sidewalks, paths and trails. You'll want to think of your design with flagstone as a puzzle, with the irregular shapes fitting along one another. The use of contrasting colored stone can create added interest in a flagstone surface. Flagstone can also complement and contrast with concrete pavers and other hardscape materials as a border or accent, creating an artistic look.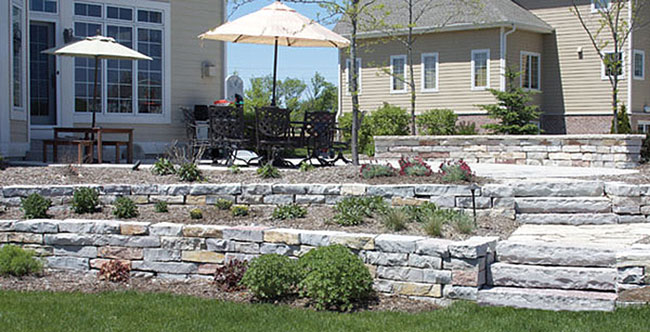 Be sure to visit your nearest Patio Town store to view for yourself the many varieties of wall stone and flagstone we have available.
Learn more about the varieties of flagstone on the Halquist Stone website.
Some things to consider: 
Wall Stone is typically 8" wide
Rock edging is typically 4" wide. 
Flagstone is not recommended for driveways or vehicle areas.