Segmental retaining wall systems are one of the most versatile tools available to the do-it-yourself landscaper. Besides traditional walls designed to hold back soil, these innovative systems also can be used to build a whole array of landscaping features. Fire pits, outdoor kitchens, seat walls, stairs, columns, tables, even plantable walls that become a part of the landscape are possible for homeowners willing to invest a little creativity and sweat equity in their yard. With the right system, the only limit is your imagination.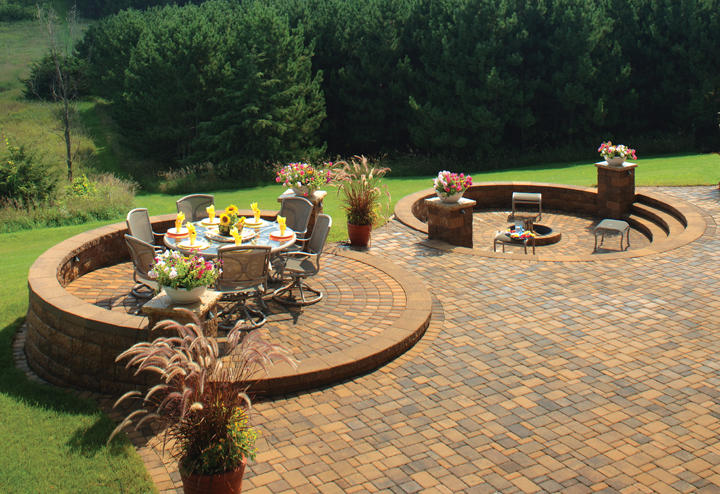 The solid concrete blocks can be modified and configured to accommodate appliances and utility connections. One of the most popular backyard features for do-it-yourselfers is a fire pit surrounded by a patio and seat walls made from retaining wall units. A circular or square patio is built around a cast-iron fire ring, and matching seat walls ring the patio. It's a terrific project for someone who wants an affordable, easy-to-install backyard makeover. And Patio Town even sells a ready-to-install kit for a paver patio with a fire ring.
Freestanding columns constructed from split VERSA-LOK wall units stacked and glued in a four-square pattern make an attractive landscape feature that can be used to perform a variety of functions. Standing alone at the end of a driveway or on either end of a freestanding wall, columns can be finished with natural or cast stone caps. Install wrought iron between columns to create elegant fencing. Columns can be built around the posts of a pergola to add a touch of class to a garden space, spa or even front entry. Or make a table from a column topped with a natural or cast stone slab. The VERSA-LOK system is especially design-friendly because it uses solid units that can be easily cut or split to fit any application. Even stairs can be built with this system.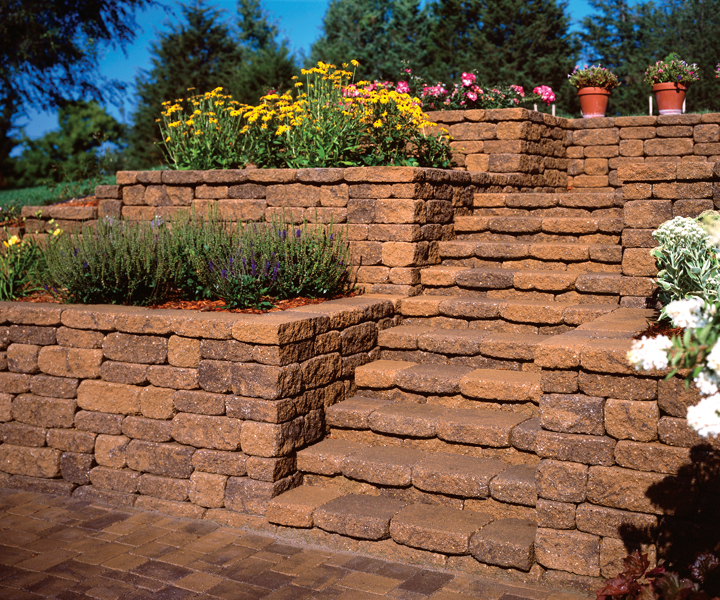 Stairs become part of the retaining wall in this beautiful series of tiered walls and gardens. Retaining wall units are stacked in tiers to make the stair's base pedestal. Stair treads are made from wall cap units, pavers or precast treads. The stairs can be fully inset into a wall or exposed on one or both sides. Stop in at Patio Town and see the full line of VERSA-LOK retaining walls and Willow Creek pavers.