When Carol Mulroy had to say goodbye to a pine tree in her yard, a friend had an idea. "I'm Irish, and he's an artist," said Carol. "He sketched out an Irish telephone booth for the spot."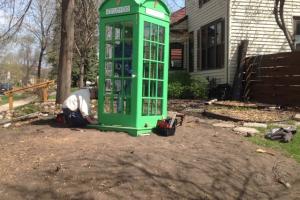 Her friend constructed the phone booth out of reclaimed French doors. The artist also had designed a bench for two inside the booth.  
"We were standing in front admiring it, and another friend said it would look great with a paver path and some plants," said Carol. "My friend had sketched a traditional rock wall into the plan, but we hadn't put it in. It was really what the spot needed."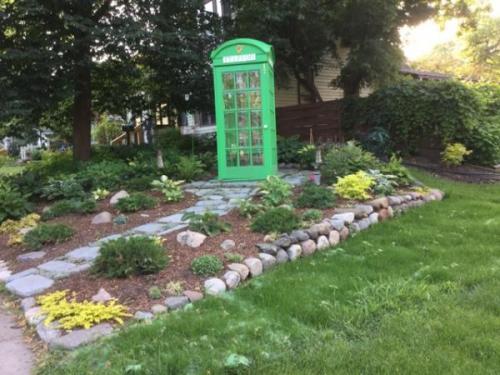 The previous summer, Carol had purchased paving stones from Patio Town in Oakdale for a backyard project, so she visited the store again. "At first I was nervous about how the project was expanding. And how was I going to get all these rocks and pavers that we needed? But Patio Town made it so easy! I just showed them a picture of the phone booth and got their advice about what would work."
Patio Town helped her select the right rock for the fence and Bluestone stepping stones for the landscaped path. Patio Town's staff also delivered the materials when she had a crew of volunteers ready to build the stone fence. "We had the most wonderful delivery person who delivered the pavers as close to the site as possible," she said.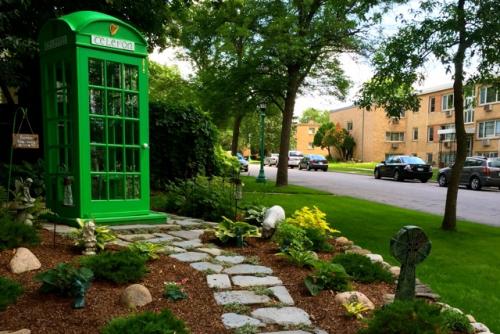 Friends donated books on Ireland to keep inside for any passersby who wanted to stop. Carol's Irish phone booth has been featured as a neighborhood destination in the local newspaper and on community blogs. Parents and their kids often stop at the "reading room" to look at picture books about the North Sea country. "It's a great place to get out of the rain, too," she says.