It's time to fire up the grill! Even the most seasoned grill jockeys can benefit from reviewing some simple but important grill safety tips.
Check out these links for general grilling safety from the National Fire Protection Association, National Propane Gas Association/Propane Education & Research Council, the Hearth, Patio and Barbecue Association, and Patio Town's grill line, Napoleon Gourmet Grills. All of these sources recommend these important tips and more:  
Read the owner's manual. Proper assembly according to instructions and reading the owner's manual are safety tips No. 1 and 2 in our Napoleon Gourmet Grill owner's manuals. Keep your manual in an accessible place.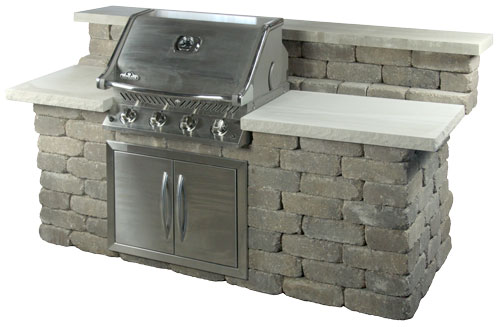 Outside only. Small tabletop electric grills like a George Foreman are the exception, but the rule is that ALL charcoal, propane and LP grills and small kettle and hibachi-style cookers are for outside use only.
Keep away from flammables. Place the grill away from wood railings, wood furniture, branches, etc. A surrounds like our Grill Island or Bar & Grill kit (shown above), which includes a Napoleon Prestige BIP500 grill, makes a safe harbor for your grill.
Practice safe practices. Long-handled barbeque utensils are essential. Wear safe clothing that won't blow or catch in the grill, and keep children and pets away during operation. NEVER leave the grill unattended. Keep a fire extinguisher handy, and never try to move a hot grill. When done cooking, double-check that all valves and burner controls are turned off.
Check operations. Always check gas tank hoses for leaks at the beginning and end of the season by applying a light soap-and water-solution to the hose. A leak will release bubbles. Call a professional for service if you smell gas when the grill is off or if you see bubbles using this test.
Put in place these practices every time you fire up the grill, and you'll be grilling with the pros! 
Patio Pete