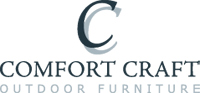 With spring around the corner, Minnesotans' thoughts turn to the out of doors.
And the right choice in outdoor furniture will make your outdoor hours more enjoyable. Most people want furniture that's maintenance-free, durable, beautiful and comfortable. Keep these questions in mind when shopping for outdoor furniture:
Do you have off-season storage space for your outdoor furniture, or do you want to simply set it up and forget it?
Does the thought of spring and fall cleanup and buying special cleaners, strippers, stains, sealers, paint or rust-proofing products give you dread?
Do you prefer eco-friendly outdoor furniture such as chairs and tables made from recycled materials?
The right style and materials for your landscape, patio, deck and other outdoor spaces can make the difference between creating a plain and ordinary outdoor living space or an enticing one.
At Patio Town we only carry our exclusive Comfort Craft™ outdoor furniture because it is superior for many reasons and for all seasons. Put it out and enjoy it for a lifetime. Designed with your body in mind, the contours of the chairs and seating choices will put your back at ease. Three styles – classic Adirondack, garden-style Bent Arm and Rollback are great anywhere around your yard and home.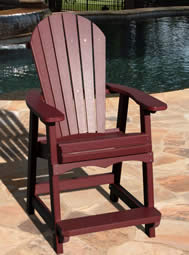 Made in the USA, the Comfort Craft line includes rich earth tones like cedar, Weatherwood and two-toned browns plus vibrant teal, orange, yellow, red, lime and blue. Black, white, brown, burgundy and green are also available. You can create custom two-tone color combinations to add pizzazz or to complement existing furnishings, landscapes or hardscapes.
You can design multiple matching or complementary arrangements for lounge seating, fire pit surrounds, fireplace areas and other outdoor living spaces. Choices include folding chairs, pub chairs, deck chairs, rockers, gliding chairs, swings, settees, dining sets and end tables. With a taller profile, balcony-style selections are perfect for apartment verandas, terraces and decks, and pub styles are great for an outdoor bar, lounge and dining area.
With Comfort Craft, there's no more worry about prepping the outdoor furniture for the seasons — or even storage. Comfort Craft requires no sealing, painting or staining and uses stainless steel fasteners that don't rust or corrode. Clean up is a snap with plain soap and water. Unlike wood, there's no chipping, cracking, rotting or splintering. The material has no fillers such as wood fiber that cause moisture absorption. UV inhibitors prevent fading.  
Visit us to see and feel the difference and durability of eco-friendly Comfort Craft. Crafted of 100 percent recycled High Density Polyethylene (HDPE) from unwanted consumer and industrial products, Comfort Craft has the look and feel of real wood. It will look great for decades.