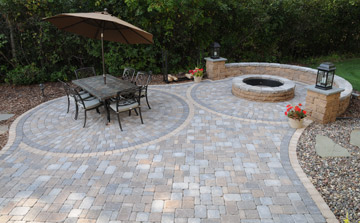 If you're thinking of putting your house on the market, you may want to consider some landscaping improvements to beef up your sale price.
Landscaping is a good investment, according to a recent study by the Journal of Environmental Horticulture. For every dollar you spend on landscaping, your home will see a $1.35 increase in value.
Results of the study were reported in the September 2010 issue of Lawn & Landscape Magazine: 
In a crowded and depressed real-estate market, homeowners may be best served to undertake exterior home improvements like landscaping in order to increase the value of their homes and to help their property stand out to prospective buyers, according to the Associated Landscape Contractors of Colorado (ALCC).

A study in Lubbock, Texas, published in the Journal of Environmental Horticulture, evaluated 75 homes and concluded that every dollar invested in landscaping returns $1.35 – or a 35 percent return on investment. The same study found that having high-quality landscape compared to an average home increases the sales price of the home by 5.7 percent. This number jumped to a 10.8 percent increase in the value of a home when comparing an excellent quality landscape to an average landscape.

Landscaping to increase a home's value is not the only incentive for homeowners to spruce up their front yards. According to the Colorado Association of Realtors, curb appeal – how your house looks to people driving by or walking up to the front door – can be critical to getting your house sold. "Landscaping can make a significant difference in the appearance of a home and you don't have to spend a fortune to make a yard beautiful," says Amy Dorsey, past president of the Colorado Association of Realtors

The importance of a home's curb appeal is shared by realtors as well. "In my 20-plus years in the Colorado real estate market, I've seen that a good first impression can encourage a potential buyer to take a closer look and be more willing to overlook other negatives a property may have," says Kathy Nelson, a broker associate with Coldwell Banker. "Conversely, a bad first impression may be impossible to overcome no matter how attractive the inside of the house may be."
Stop in to your nearest Patio Town and let our landscaping experts give you some ideas on how you can increase your home's value with outdoor improvements. You can do it yourself, or let our design/build group at Villa Landscapes take care of everything for you.