When it comes to mulch, Patio Town's got you covered.
--- Get a $10 coupon just for signing up for our free e-newsletter. Scroll down to sign up. ---
Mulch Madness is back! All this week get four BIG bags of mulch for $9.99. For BIG jobs, save 15 percent on bulk mulch. Cedar, cypress, hardwood, colored mulch -- you name it; we've got it!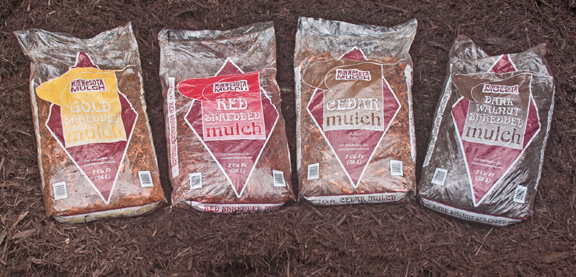 Spring is a good time to get out and mulch, because mulching:
helps prevent weeds in your garden!

keeps moisture in the ground around your annuals, perennials, trees and shrubs.

makes your gardens look great!
Mulch in its many varieties makes a beautiful, easy landscape design element along walkways, driveways and foundations and in gardens, raised beds and elsewhere!
Get creative and mix and match colors and textures.
Hurry over to Patio Town and go mad for our mulch!