Do you love gardening but your back and knees don't feel the same way? Thankfully, many products can make gardening easier and more comfortable:
• Foam kneeling pads
• Knee pads with straps
• Portable gardening chairs, hoppers and stools
• Ergonomic hand tools
• Hand tools with extensions
• Raised garden beds and planters
Raised gardens are great, too, if only a small portion of your yard is sunny or you live in an apartment, town home or condominium.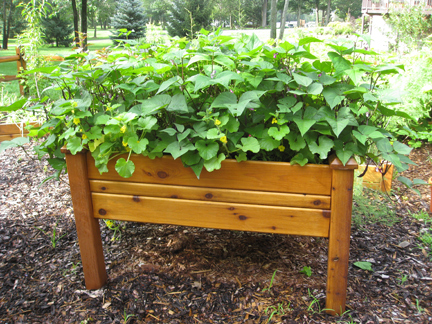 Many people who need mobility assistance like scooters and wheelchairs can continue to enjoy gardening with raised garden beds and planters constructed of cedar and other materials that you can purchase at Patio Town and other landscaping supply stores. Available in kits or pre-assembled, these gardens on legs are quite popular.
You can build a raised planter using block or retaining wall units that will look beautiful in your yard for years to come. Consider building one for a friend or relative who loves to garden but needs easier access. It's a great gift for someone special and they'll remember you every time they enjoy working with flowers and vegetables in the raised garden you created for them.
Watch these videos where Chris from Patio Town Burnsville shows you how to get started building a raised garden or planter with Handy-Stone and Willow Creek Ledgestone. If you have questions just call or attend one of our free Saturday seminars.